L LEUCINE
Leucine Amino Acid BCAA Supplement - Product Benefits & Overview - Myprotein
What is L-Leucine?
L-Leucine is an essential amino acid. As an essential amino acid it cannot be made by the human body and, therefore, must be consumed through food such as nuts, brown rice and whole wheat bread products or dietary supplements.
Who is L-Leucine suitable for?
This is therefore suitable for an individual wanting to increase their daily intake of L-Leucine and essential amino acids.
Please note that the labelling on this product is provided in English as a minimum. French, Italian, German, Spanish, Danish, Swedish and Finnish may also be present on a product by product basis.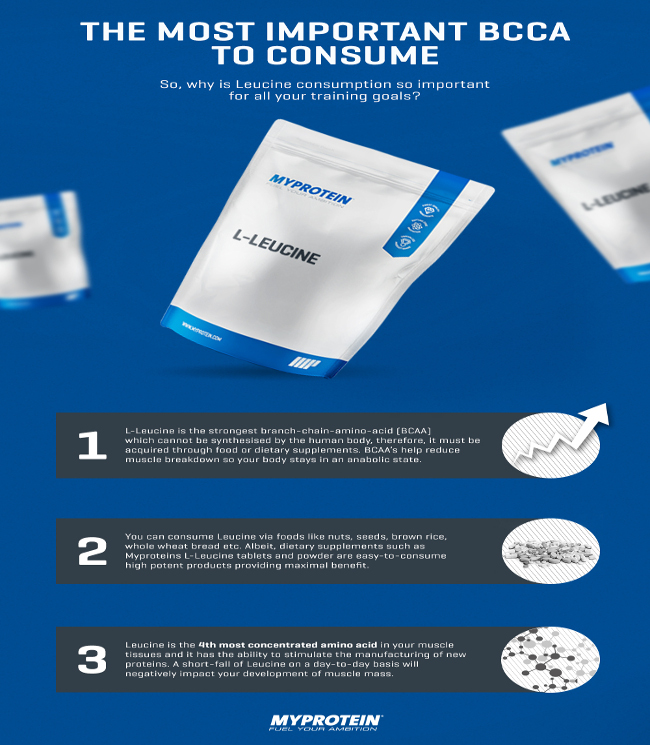 Serving Size - 1 tsp (3g)
Servings Per Container - 83 (250g), 166 (500g), 333 (1kg)
The nutritional information is based on the Unflavoured version, when choosing an alternative flavour the nutritional values may vary.
Add your preferred amount of water or fruit juice into our shaker. Then add 3g, shake and consume. Use twice daily. Best consumed on an empty stomach.
Note: We advise that all servings are measured using an accurate set of scales. While we make every attempt to provide an accurate equivalent measure using our Myprotein scoops, these are only approximate and are not a substitute for using a standardised measuring device.
Do not exceed the stated recommended daily dose. This product is a food supplement and therefore should not be used as a substitute for a varied diet and a healthy lifestyle. Store in a cool dry place, out of the reach of young children.
Made in a facility that also handles Milk, Soy, Egg, Gluten and products thereof.
Unflavoured: L Leucine (100%)